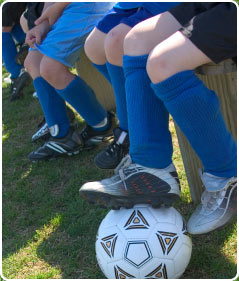 Travel
For its more competitive players, PAYSA fields a travel program, in which participants train more extensively and play teams from towns in Greater Portland and beyond.  Teams are fielded by age and gender, typically from the U10 through U14 age groups.
The travel soccer program is for children who are committed to improving their skills and sense of teamwork on the field.  While teams adhere to PAYSA's principles of development and participation, soccer at the travel level offers a more competitive and comprehensive experience than is found on the recreational level.
Greater commitment.  Teams are managed by licensed coaches, and players are expected to commit to training times and games.  Teams typically train twice weekly, beginning in mid-August, and may play up to two games per weekend through early November.
Teams participate in tournaments on the Labor Day and Columbus Day weekends. In the U10-U11 age groups, teams are designated as "noncompetitive," meaning scores are not formally kept and standings are not maintained.  These teams play in a season-ending tournament in late October.
Teams in the U12-U14 age groups are deemed "competitive," and scores and standings are tracked for seeding in the state championship tournament.
Tryouts.  PAYSA typically fields as many teams per age group as the number of players and available coaches allow.  Each spring, the club holds player evaluations to determine each player's level of skill, as compared to his or her peers.  These evaluations are used to form teams.  Players not making a travel team need to be encouraged to complete the registration for the REC program. The REC program is open for players up to U12 and there may be limited access for U13 players.